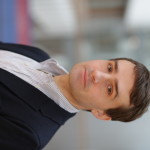 I hold a førsteamanuensis position at Kristiania University College in Oslo Norway. In addition to teaching and research activities at Kristiania, I am responsble for the study programs in economics and business. 
During 2017-2019 I was employed as a postdoctoral researcher at Uppsala University At Uppsala I worked on applied macroeconomic research using Swedish firm-level register data. 
I did my PhD at the Department of Economics at the BI Norwegian Business School, Oslo Norway. My advisors were Espen Moen (UiO, BI) and Leif Helland (BI). I defended my dissertation in August, 2017.
Current Position: Førsteamanuensis (assistant professor), Kristiania University College, Oslo Norway.
Education: Post doctoral researcher, Uppsala University 2017-2019; PhD in Economics, BI Norwegian Business School, 2017; MSc in Political Economy, BI Norwegian Business School, Oslo, Norway, 2011; Bachelor in Chemistry with minor in Physics, Dartmouth College, Hanover NH, United States, 2006
Research Interests: Register data, search theory, experimental economics
Teaching: Microeconomics, game theory, econometrics and data analytics, and linear algebra
Contact me at knut-eric.joslin(at)kristiania(dot)no .